The Suitcase Series Volume 1:
Camilla Engman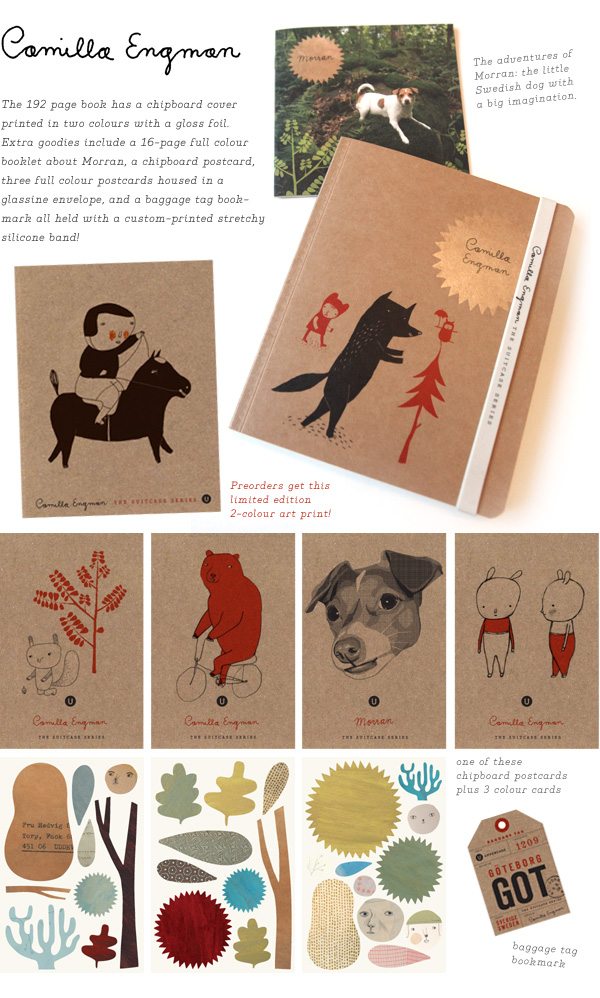 Artist Camilla Engman may live in Gothenburg, Sweden, but her appeal is international. A professional illustrator and exhibiting artist, her images are whimsical, poignant, humourous and insightful. With her keen eye for finding the extraordinary in the everyday, Camilla documents her inspirations and endeavors on her popular blog. The book is a complete profile of Camilla's life and work with insight into Swedish culture and style.
The Suitcase Series presents in glorious detail the lives of select artists and designers. The books are image-based, full of artwork, sketchbook pages, beautiful photographs and artifacts from where the artists live and work. The book becomes a precious souvenir of a creative journey shared between the reader and the artist.
Camilla's book also includes a mini booklet about Morran, the little Swedish dog with a big imagination, a glassine envelope containing 4 postcards, and a baggage tag/bookmark: all held together with a custom-printed band.
DETAILS
2-colour cover on chipboard with gloss foil accents and rounded corners. Mini booklet and glassine envelope of postcards and travel hangtag enclosed with a printed silicone band. 192 pages, 6.625" x 8"