Dear Readers,
Issue 20 marks five years of UPPERCASE magazine! This is an amazing feat considering that we are a small publication with little or no advertising, fully supported by our readers and subscribers. With your support, we look forward to many more creative years ahead. Thank you for keeping us going.
The main theme throughout this issue is "broadcasting". My broad interpretation of this term includes the sharing of ideas graphically and publicly through posters, social media and public art and also encompasses amateur radio, graphic novels and collecting vintage advertising posters. To round out the issue, haberdashery, hat-making and a love of sewing notions is a pretty and crafty thread of content throughout.
In addition to the magazine, we also publish books on craft, creativity and collecting. Two forthcoming titles that have been in the works for a while include The Typewriter: a Graphic History of the Beloved Machine and Little U: the offspring of UPPERCASE—a book/magazine for the young at heart. Visit our website for more details. Also new to the shop is a line of papergoods and posters that we look forward to expanding over the next while.
Here's to a creative and curious new year!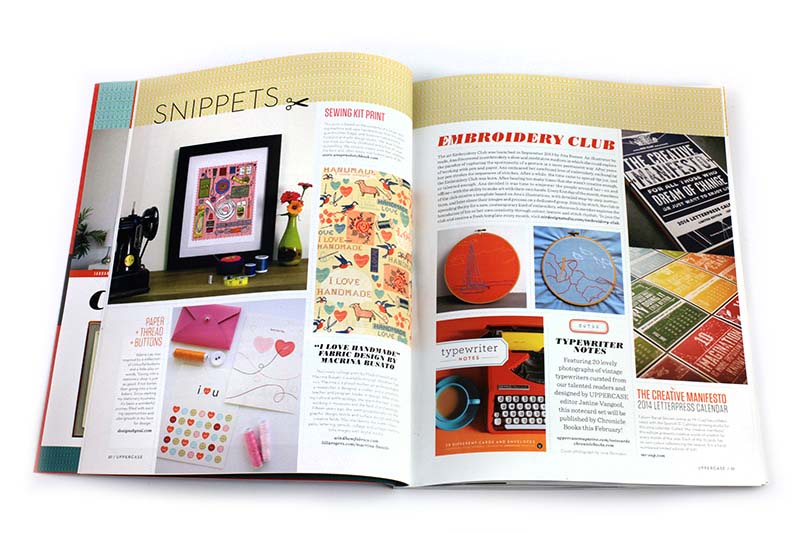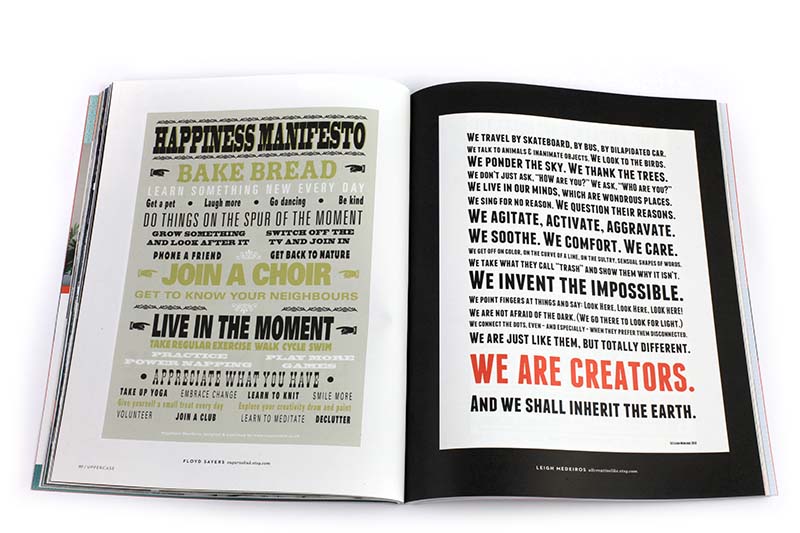 Contents
SNIPPETS
Paper Gig Posters
by Kate Deglow
Participate
Station Identification
Abecedary
Broadcasting
by Janine Vangool
Blog Beautiful
Sugar & Cloth's Ashley Rose
interview by Brittni Mehlhoff
Beginnings
Austin Kleon
by Adrienne Breaux
Business
Send the Right Message
by Rena Tom
Creature
Communication Between Animals
by Glen Dresser
FINE PRINT
Library
The Graphic Novel
by Nikki Sheppy
Small Print
This Magazine is
Not a Broadside
by Carolyn Fraser
Ephemera
The History of
Hamilton Wood Type
photos by Nick Sherman
ART & DESIGN
Type
Garbage Beauty
story by Joy Deneen
photos by Christian Blais
Portfolio
Cover Artist
Jason Munn
Simply Perfect Posters
by Vinciane de Pape
Discover
Broadcasting Then and Now
by Jen Caswell
Hobby
Ham Radio
story by Holly Hutchinson
illustration by Julia Trigg
Collection
QSL Cards
collected by Julia Trigg
Guide
A Little Book of Craftivism
by Sarah Corbett
Trend
Manifesto Posters
Pea Crabtree
Lesley Greening Lassoff
Floyd Sayers
Leigh Medeiros
Fabien Barral
Giesla Hoelscher
Sketchbook
Make Your Own Manifesto
PLACES/SPACES
Creative Careers
A Vintage Poster Gallery in Montreal
by Correy Baldwin
photos by Christian Blais
Field Trip
Wayward Haberdashery
by Jas Chi Ying Tang

CRAFT
Stitch
Magda Sayeg, Yarn-Bomber
by Adrienne Breaux
W.I.P.S.
Hiné Mizushima's Felted Friends
Participate
I Love Notions
Reader Submissions
Lesson
Leon Drexler Handmade Hats
by Becca Gilgan
STYLE
Wardrobe
Haber-Dashing illustrated
by Kelly Lasserre
A Tip of the Hat
by Brendan Harrison
illustrations by Cleo Papanikolas
Dynamic Duo
Amy and Christopher
Dean of Crown & Crumpet
by Alessandra Cave
KITCHEN
Kneading
story and photos
by Tara O'Brady
Recipe
Overnight Braided Cinnamon
Bread
by Tara O'Brady
MISc.
Subscriber Profiles
Peeps

Covet
With Love, Anonymous by Andrea Jenkins