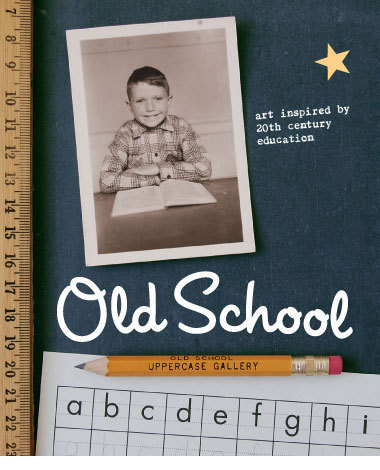 Old School:
art inspired by
20th century education
The "Old School" theme celebrates the aesthetics of twentieth century education. It is inspired by vintage flash cards, old desks, biology class, science fairs, crayons, card catalogs, textbooks, class photos, teachers, yearbooks, lunchboxes, gym class, maps, lockers, report cards, film strips, recess, spelling, chalk… and the list goes on!
Released in 2008 with a gallery exhibition. Sorry, this book is out of print.
PARTICIPANTS
Shauna Alterio & Stephen Loidolt | Philadelphia, USA
Jen Altman | Omaha, USA
Lori Andrews | Calgary, Canada
Stefanie Augustine | Providence, USA
Derek Beaulieu | Calgary, Canada
Diana Behl | Brookings, USA
Darren Booth | Ste. Anne-de-Bellevue, Canada
Lisa Brawn | Calgary, Canada
Kariann Burleson | Lake Mills, USA
Tracey Cameron | Calgary, Canada
Michelle Caplan | West Hills, USA
Frank Chimero | Chicago, USA
Libby Clarke | Brooklyn, USA
Maura Cluthe | Kansas City, USA
Lisa Congdon | San Francisco, USA
Holli Conger | Hendersonville, USA
Helen Eady | Vancouver, Canada
Kiersten Essenpreis | Brooklyn, USA
Ray Fenwick | Halifax, Canada
Fred Free | Brookline, USA
Renee Garner | Matthews, USA
Mark Gervais | Calgary, Canada
Jen Gotch | Los Angeles, USA
Leslie Hart | Greenville, USA
Rebecca Harvey | Columbus, USA
Abbey Hendrickson | Buffalo, USA
Beckie Hermans | Poughkeepsie, USA
Jen Hsieh | Hamilton, Canada
Linzie Hunter | London, UK
Xerxes Irani | Calgary, Canada
Chelsee Ivan | Calgary, Canada
Darla Jackson | Philadelphia, USA
Cindy Jaswal | Vancouver, Canada
Natalie Jeffcott | North Melbourne, Australia
James Jensen | Calgary, Canada
Jennifer Judd-McGee | Portland, USA
Sandra Juto | Göteborg, Sweden
Blair Kelly | Toronto, Canada
Mike Kerr | Calgary, Canada
Karen Klassen | Calgary, Canada
Elesavet Lawson | Toronto, Canada
Judy Lee & Shawn Liu | Brooklyn, USA
Renata Liwksa | Calgary, Canada
Kelly Maron | Des Plaines, USA
Deidre Martin | Calgary, Canada
Ellen Mueller | Minneapolis, USA
Brent Mykytyshyn | Calgary, Canada
Daniel Neville | North Fitzroy, Australia
Colleen Nicholson | Toronto, Canada
Christine Panushka | Sierra Madre, USA
Mariko Paterson | Calgary, Canada
Lillianna Pereira | Northampton, USA
Tram Pham | Portland, USA
Andrew Phares | Alameda, USA
Caitlin Phillips | Mount Rainier, USA
Kate Phillips | Berkeley, USA
Emmanuel Polanco | Paris, France
Colleen Rauscher | Calgary, Canada
Kyle Reed | Hamilton, Canada
Jen Renninger | Tampa, USA
Julia Rothman | Brooklyn, USA
Valerie Roybal | Albuquerque, USA
Cristina Sitja Rubio | Berlin, Germany
Kim Scafuro | Brooklyn, USA
Jessie Senese | Frankfort, USA
Kim Smith | Calgary, Canada
Elizabeth Soule | Portland, USA
Camilla Stacey | Weston-super-Mare, UK
Elizabeth Steiner | Towson, USA
Krista Stout | Minneapolis, USA
Amy Thompson | Ottawa, Canada
Tonja Torgerson | Minneapolis, USA
Rebecca Trawick | Fontana, USA
Kirstie Tweed | Banff, Canada
Nubby Twiglet | Portland, USA
Emily Wilson | New York, USA
Rose Zgodzinski | Toronto, Canada